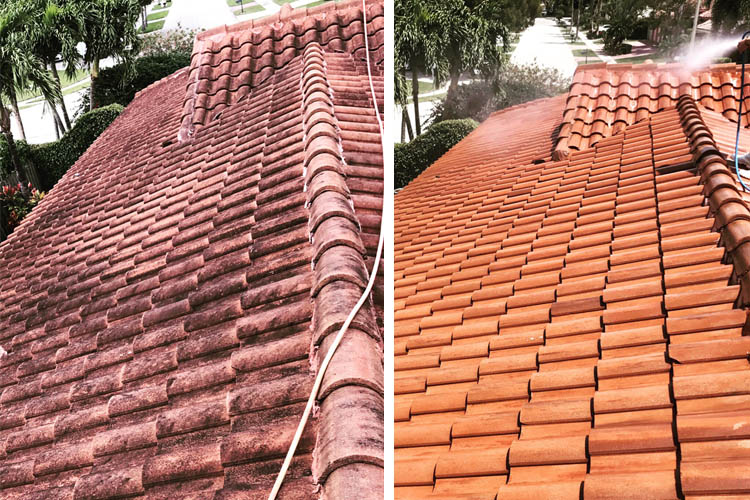 Roof Cleaning
Are you searching for roof cleaning services? If so, we ca help! Power washing or pressure washing cleaning is a way of effectively cleaning the exterior part of your home or any surface with high-pressure water. Roof cleaning is recommended as they can start to get opaque with a lining of dirt that will accumulate over time. Like the rest of your house, the proper maintenance should be performed at least once a year. 
When To Power Wash Your Home?
If you notice your roof or exterior walls, driveways, or decks looking dirty, we recommend pressure washing services to prevent dirt and mildew that could damage the surface and paint. This cleaning technique can be combined with chemical solutions that remove even the toughest stains. By scheduling service at least once a year, you can keep your home in spotless condition. Moreover, your home's pristine look will also increase the value of your home. At A&D, we also recommend power washing your property before a paint job. Keeping your home clean will prevent bacteria growth, mold, and other types of contaminants.
Power Wash Services We Offer
Our wide range of pressure washing options for residential and commercial properties include Roof cleaning, driveways, walkways, decks, and any other areas around your home. We also offer graffiti removal, parking garages, sidewalks, warehouses, malls, and airports. Also, our company extends to industrial services for vehicle cleaning and heavy-duty equipment. 
Great Roof Cleaning Results at an Affordable Price
We will use the proper tools, cleaning agents, and skilled crew members to complete the job right and meeting your expectations. Our techs are also trained to handle the equipment, choose the proper technique, and cleaning agent depending on the surface material. We offer affordable prices to all our customers without compromising our quality of work. You can request our services, and our techs will work around your schedule based on your availability. Call today at Call today at 954-980-0454