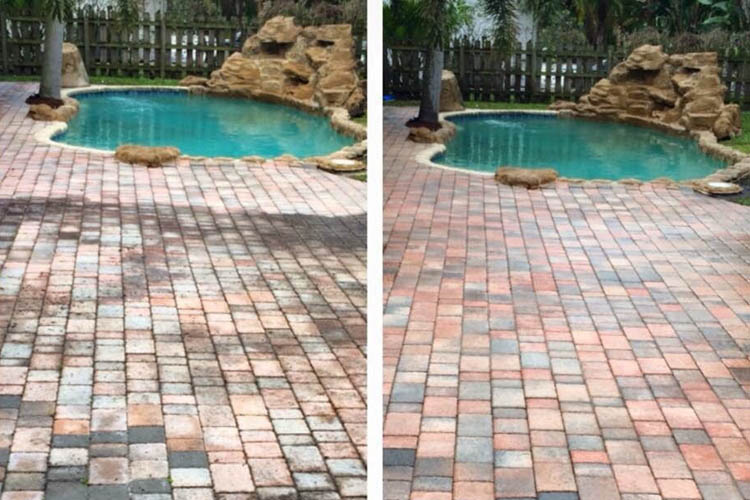 Pool Deck Cleaning
Is your pool or pool deck dirty? Are the stains starting to bother you and need a Pool Deck Cleaning near me immediately? At A&D Pressure Cleaning, we can help. For the proper maintenance, a pool deck power washing should be performed annually. Bird droppings, food, grease stains, and any other marks left by foot traffic can stain permanently or damage the underlying surface even further.
Why Hire Our Services
Our A & D team of highly trained professionals will transform your pool and pool deck looking from dirty to clean and pristine in a few hours. We can take care of pools with years of neglect and leave them looking like new.
Our service is more than just a cosmetic cover-up. Dirt, grime, and build up right into your pool can make it harder to maintain, costing you more chemicals compounds if not addressed on time. The buildup on your pool deck left unattended could deteriorate the surface over time. The cost of a clean pool surface outweighs the cost of repairing the damage it can cause.
A&D Pool Deck Cleaning Near Me
A & D Pressure Cleaning Services is a company in South Florida offering power washing for Miami, Broward, and Palm Beach counties. Also, we are specialists in delicate surfaces, using soft pressure washing for proper cleaning maintenance. In addition, we offer exterior property restoration for materials that need coatings such as pavers and concrete. By only using quality products and professional pressure washing equipment, our crew members will perform commercial and residential cleaning of various surfaces such as tile, glass, wood, and more!
Our years of experience differentiate us from other companies as we have successfully removed the toughest dirt from the ground-up. Residential and commercial business properties are treated with Eco-friendly cleaning agents to not compromise the surface of any material, giving the client peace of mind that their home or building is in good hands.
Are you ready to call A&D Pressure Cleaning and Soft Washing Specialist? Call 954-980-0454