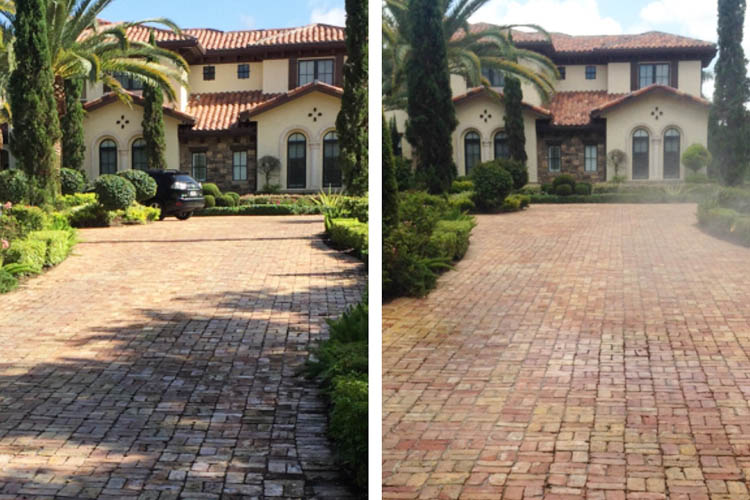 Driveway Pressure Cleaning
Are you searching for driveway pressure cleaning services? If so, we can help. Our driveway pressure cleaning services include surfaces and substrates made out of pavers or concrete. Because we understand the specs of the material, specialized equipment and techniques are important to successfully remove any tough stain. That is why we also offer scheduled maintenance cleaning programs to periodically take care of surfaces and exteriors that need treatment before they get damaged with time.
Why Driveway Pressure Cleaning is recommended?
If the property is residential, pavers are the preferred material by contractors to cover the driveway area. With time weed grows in between the pavers, making it visible and looking like a neglected home. If you live in a gated community, the HOA can fine you if your driveway is dirty. Fees are also applied to roofs and any other areas they think needs cleaning. Fines can be up to $1000 dollars, so it's worth the investment to pressure clean your driveway periodically. Setting up a maintenance schedule can help prevent the dirt from accummulate within layers, making it tougher in the future to remove or damage any kind of material.
A & D Pressure Cleaning and Soft Washing Specialist
A & D Pressure Cleaning is South Florida's preferred choice for premium quality power washing, high-pressure washing, exterior property sanitizing, and high-pressure cleaning services. We serve our esteemed clientele in Miami, Broward, and Palm Beach County. In addition, we only use certified, eco-friendly, safe, non-toxic/non-hazardous, and premium quality products. 
A&D Pressure Cleaning performs overall residential pressure washing such as Driveway Pressure Cleaning, patio cleaning, roof cleaning, driveway, and concrete cleaning. Our A&D pressure cleaning services list is endless, ranking among the top roof pressure cleaning companies in Pembroke Pines, FL, and surrounding areas. Call today at 954-980-0454 or fill out a contact form.