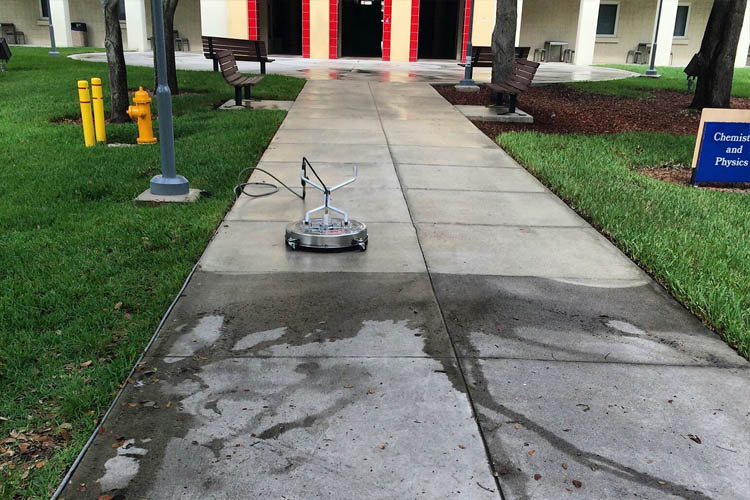 Concrete Cleaning and Sealing
Are you searching for Concrete Cleaning and Sealing services? If so, A&D Pressure Cleaning can help! We understand how porous surfaces benefit from a sealer compound that helps them repel water allowing the surface to be resistant to mold, dirt, and algae. Many home owners forget to maintain certain areas of their home. That is why we believe that surfaces that are good candidates for sealing around homes are concrete driveway, patios, and pool decks.
There are two types of Concrete Cleaning and Sealing methods depending on the surface to be treated and the desired look you want for your property appearance. Also, if you want commercial grade sealers for your residential property, we can always test one small area first to ensure compatibility.
Penetrating sealers soak into the treated surface, creating a chemical bond with the material without changing its texture and appearance, increasing the time between cleanings. Stones include limestone, cast stone, flagstone, and concrete patios. Reapplication is suggested to be every 3-5 years.
Topical sealers have no chemical reaction coming in low and high gloss finishes providing more of a "wet look," protection, and color enhancement.
Both Concrete Cleaning and Sealing methods will be more resistant to dirt and algae prolonging the time between cleanings. Applications include limestone, flagstone, concrete patios, pools decks, and driveways where changes in the surface's appearance are desired.
Topical sealers bring out the color driveways and facade stones; however, last less needing a reapplication every 1-3 years.
A&D Pressure Cleaning Concrete Cleaning and Sealing
A & D Pressure Cleaning Services is a company in South Florida offering top quality power washing for Broward and Palm Beach counties. Also, for delicate surfaces, soft pressure washing and exterior property restoration services are available upon request. By only using quality products and professional equipment, they perform commercial and residential cleaning of various surfaces such as concrete, tile, pavers, glass, and more!
Our years of experience differentiate them from other companies as they have successfully removed the toughest dirt from residential and business properties. Moreover, the use of Eco-friendly cleaning products won't compromise the surface of any material.
For A&D Pressure Cleaning and Soft Washing Services call today at 954-980-0454 or fill out the Contact form