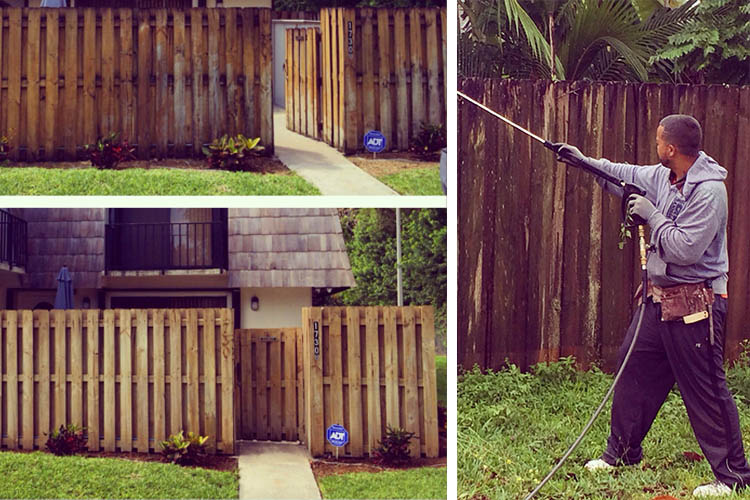 Wood Fence and Deck Cleaning
Has your wood or vinyl fence lost it luster? Are you searching for a fence pressure wash service? If so, we can help! Sunny South Florida can continually bombard exterior wood surfaces with ultraviolet rays oxidizing them into an unattractive gray color in conjunction with the black mold we are accustomed to seeing. Furthermore, vinyl fences are often exposed to green mildew and rust stains from well water irrigation systems. Elite Power Wash Solutions has the expertise and proper knowledge needed to restore these surfaces to their former glory! Call us now, and we can have your vinyl or wood fence looking great again in no time! You will be amazed at the results!
When cleaning fences, pressure washing is effective at removing general dirt and grime. If stubborn stains apply, we have the cleaning agents and specialty equipment to remove it. We can remove a host of stains that regularly accumulate on fences where moss, algae, lichen, rust, and fertilizer stains can deteriorate the material. Also, properties look neglected when fences are dirty. Either from residential or commercial buildings, proper maintenance is necessary to keep the property and the proper value. Moreover, if it is a commercial building, customers are attracted to clean establishments.
Why Hire Our Services
A&D Pressure Washing Services and Soft Cleaning is a Premier fence cleaning Company specializing in all types of fence materials, including wood, aluminum, iron, and vinyl. We can clean and restore Sidewalks to their original condition, removing a wide variety of stains and contaminants. As an Eco-friendly company, we understand the responsibility to protect the planet. Thus, all of our crew members undertake training on environmentally friendly procedures and methods to use cleaning agents that minimize chemical solutions that would endanger the environment. 
A&D Pressure Cleaning and Soft Washing Specialist
For a FREE estimate call A&D Fence Pressure Wash Specialist at 954-980-0454