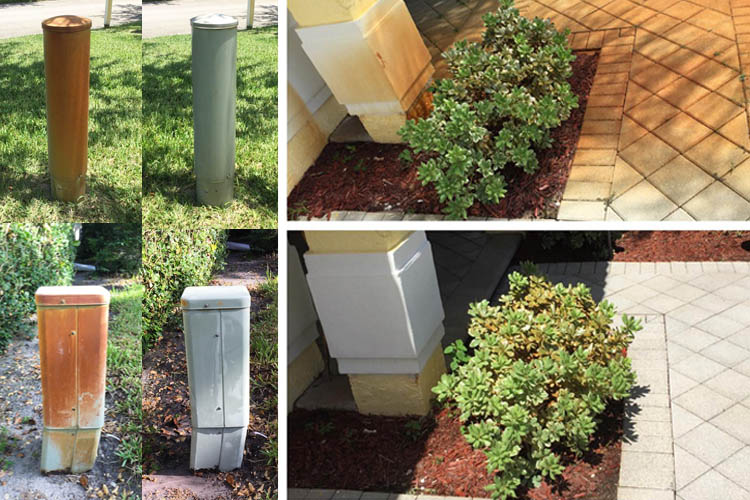 Rust Removal Service
Are you searching for an exterior pressure washing near me company? Is rust taking over your home's facade? If so, we can help! Rust is very common to spot because of its color. However, it is not that simple to get rid of certain stains due to the material's porosity where it adhered. Porous building materials are prone to bleeding rust, most of the time from metals structures that are close by. In addition, a lot of dirt and grime builds up from weather conditions making your whole entrance and facade looking neglected. The longer the stain stays on the surface material, the more difficult they are to remove. To effectively remove all of these rust stains, the sooner our exterior pressure washing near me company will arrive at your place.
Why Choose Us 
A&D Pressure Cleaning and Soft Washing is Florida's preferred choice for high-pressure washing, soft power washing, and exterior property sanitizing, serving Miami, Broward, and Palm Beach county. We use the proper pressure washing equipment and machinery with hot and cold water capabilities to remove various stains and contaminants. Also, we use Eco-friendly and non-toxic premium quality products to perform overall house pressure washing, rust removal service roof cleaning, driveway & concrete cleaning, among other surfaces.
Surface Materials That We Clean And Treat
Pavers and Tiles

Concrete and Asphalt

Sandstone and other Natural Stone, 

Stencilcrete or Patterned 

Decorative Concrete

Sealed Concrete and More!
Eco-Friendly Rust Removal Service 
Non-toxic Eco-friendly cleaning agents are preferred by our company to complete the cleaning process, as we take the environment very seriously and fully compliant with EPA guidelines that govern the Pressure Washing industry. 
A&D Pressure Exterior Pressure Washing Near Me
The list of our pressure cleaning services is endless. We are among the top rust removal cleaning companies in Pembroke Pines, FL, with years of domain-specific experience. We assess your property's condition and give you a set fee for the pressure cleaning job with no hidden fees at the end of the job. Call us today for an estimate at 954-980-0454, and we will get back to you shortly.